[In-person Event Osaka] Power the Education through COIL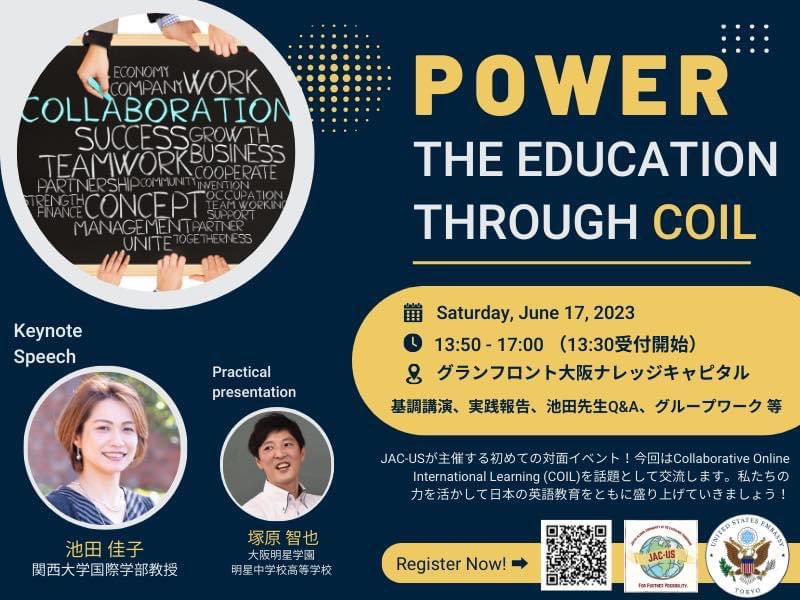 Register Now!
https://forms.gle/BRaq2bMjXahtiAveA
JAC-US will finally host its first in-person event on the afternoon of Saturday, June 17!
The theme of the event is COIL (Collaborative Online International Learning). COIL is a key concept in the future of education, in which students work on a single project or research, or engage in cultural exchange with schools overseas via the Internet. There will be a keynote lecture by Professor Keiko Ikeda of Kansai University, who is considered the leading authority on COIL in Japan, a practical presentation by JAC-US core member Tomoya Tsukahara, a teacher at Osaka Meisei Gakuen, group work among participants, followed by a reception party after the meeting.
The venue is Grand Front Osaka, directly connected to Osaka Station!
This event will be held in person with the full support of tthe U.S. Embassy in Tokyo and the U.S. Consulate General in Osaka-Kobe.
Whether you are a USG alumni or not, we look forward to seeing you there!
Register now from the URL above.
https://forms.gle/BRaq2bMjXahtiAveA